Hyper Dent Function Overview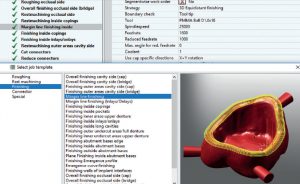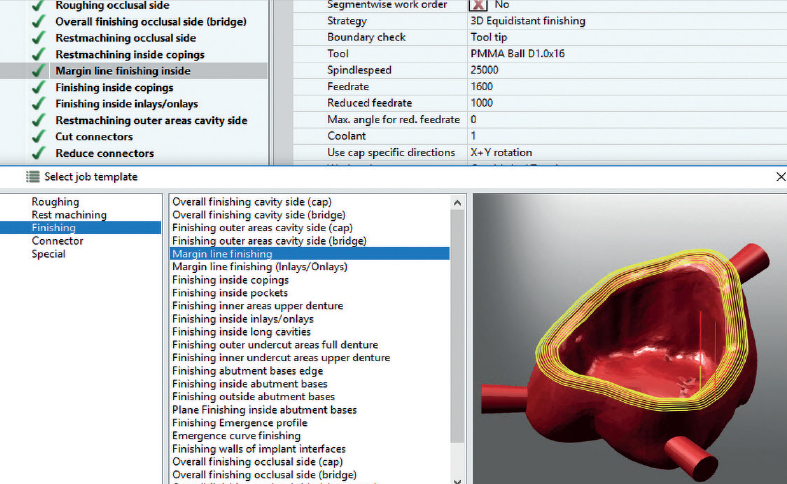 Creation of customized templates
The hyperDENT® Template Generator Module enables you to create customized machining templates for all part types which can then be tested using material removal simulation. Thanks to the simple and intuitive user interface, an experienced CAM user can immediately begin creating and modifying machining templates (i.e. cutting data, tools, milling strategies).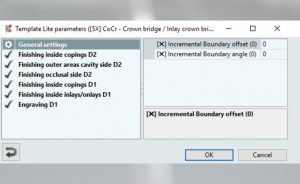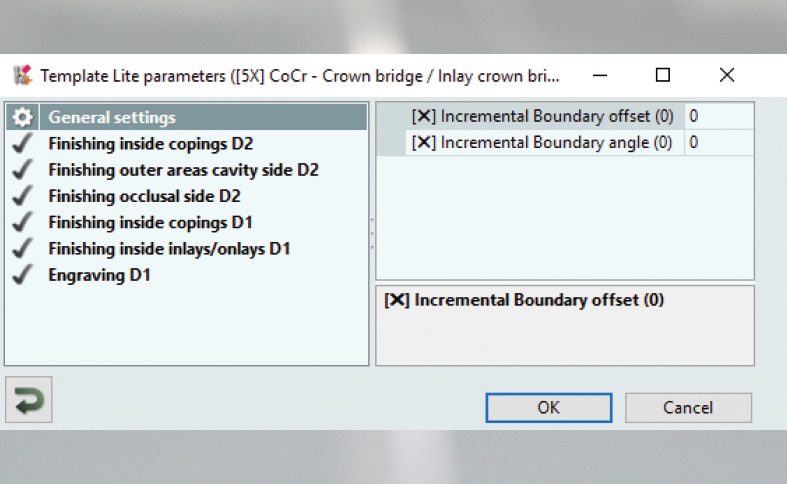 Template Generator Lite
hyperDENT® Template Generator Lite was integrated for modifications of basic parameters, such as tool path distance, allowance or milling area boundary. This function enables users to make small adjustments independently without requiring the full version of the Template Generator Module.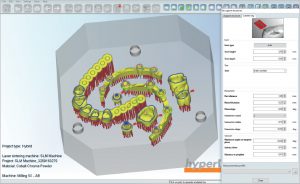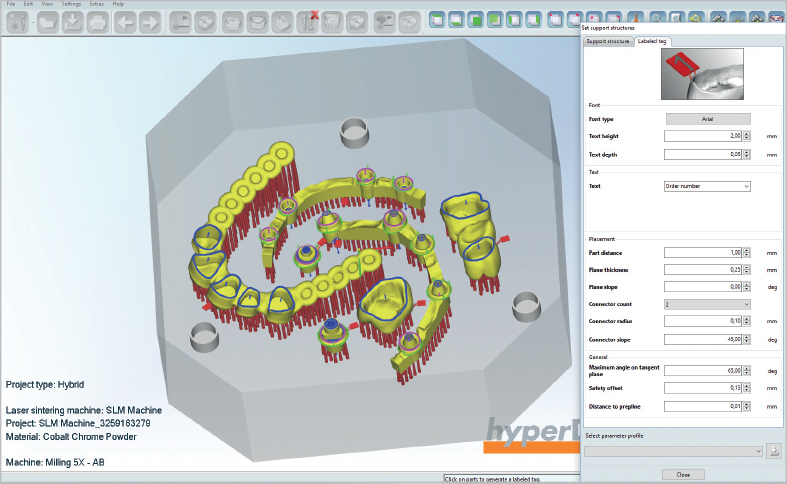 Hybrid manufacturing of dental indications
The hyperDENT® Hybrid Module enables the combination of additive and subtractive technologies in one workflow. Complex geometries, inner cavities and previously non-millable dental indications can be manufactured in high quantities with very high surface quality while using minimal material. Automated workflows, such as optimal nesting of the parts on the building platform, creating support structures or generating part-offsets in the areas to be post-milled, round off this all-in-one solution.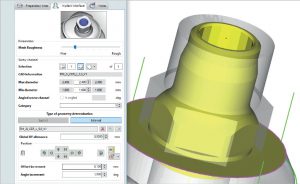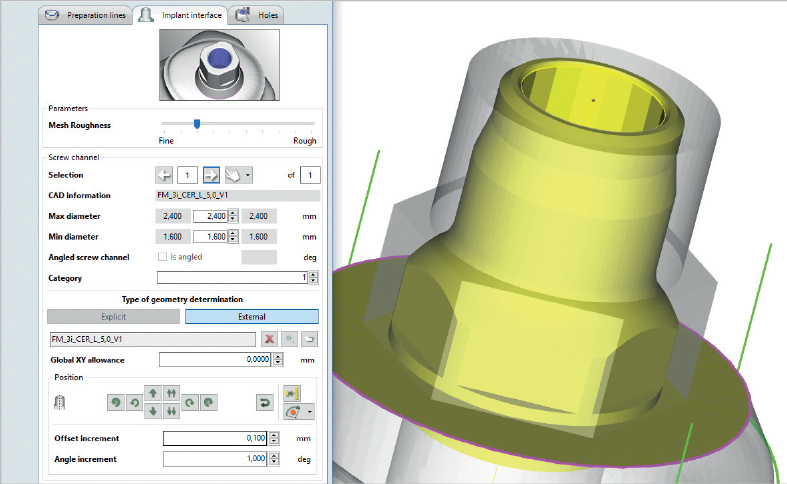 Milling of implants and geometries
With the hyperDENT® Implant Module, customized abutments, implant bridges and bars can be manufactured from circular blanks. Due to intelligent categorization, only one master template is required for all systems. This module can also be combined with a millable interface geometry library for the most commonly-used implant systems. This library can be linked to a corresponding CAD dummy geometry library. It is easy to implement your own geometries as well. Despite possible inaccuracies in upstream systems, an automated exchange mechanism for geometries ensures that high precision parts are manufactured.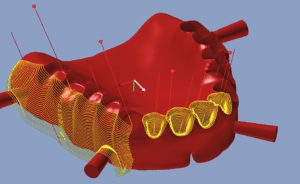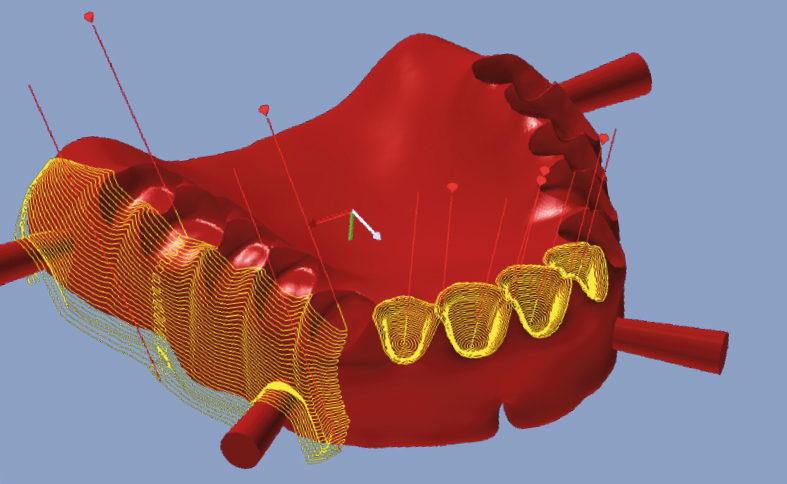 Manufacturing of full dentures
The hyperDENT® Denture Module enables digital manufacturing of full dentures with a significantly reduced processing time compared to the analog process. hyperDENT® is one of the first CAM software systems to provide a specified and automated tool paths for this indication type. With the Denture Module, you can produce different workflow variations such as fully completed rows of teeth or pre-milled tooth pockets. Interfaces to diverse CAD systems are available and guarantee easy handling.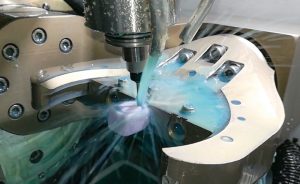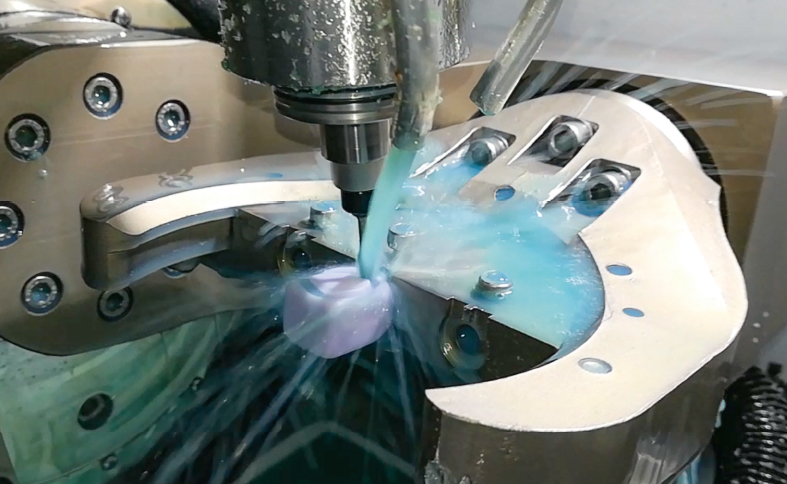 Glass ceramic grinding
hyperDENT® enables simple and easy grinding of glass ceramic using special strategies for the optimal generation of tool paths. Where possible, the full tool circumference and length is used to extend tool life and guarantee high process stability.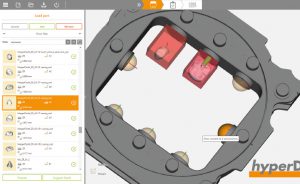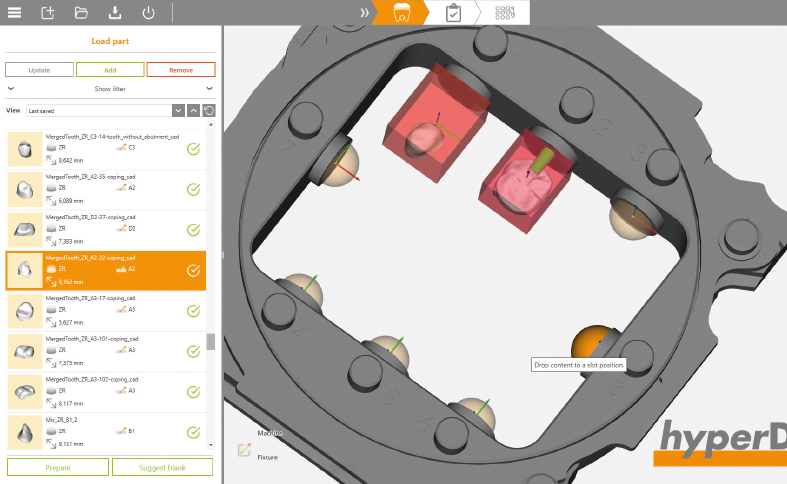 User Interface
The hyperDENT® Compact user interface design has been completely revised in line with user requirements. A higher degree of automation has been achieved due to the extremely simplified user interface and also due to the managed workflow. The calculation of a project can now be completed in just three steps with the workflow bar continuously displaying the current process step.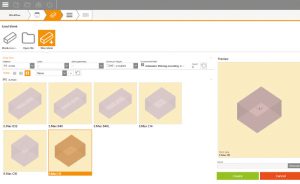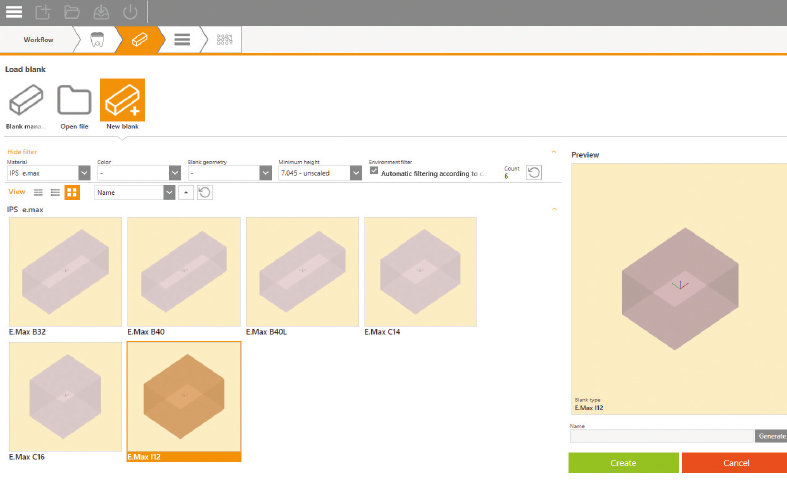 Intelligent blank suggestion
hyperDENT® automatically recognizes the blank required for processing and suggests this in a dialog box including all known parameters, such as material and part measurements.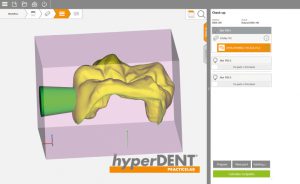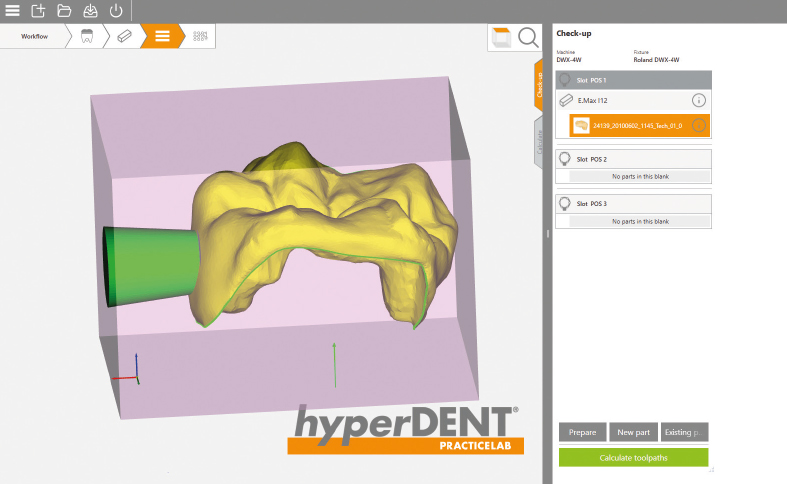 Automatic placement of parts and setting of connectors
The optimal placement of parts to be machined occurs directly after blank selection. If rotating or tilting is required, this will be done automatically according to machine capability. Simultaneously, the connector (holding pin) will be set using the default parameters.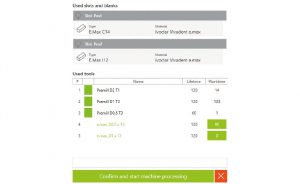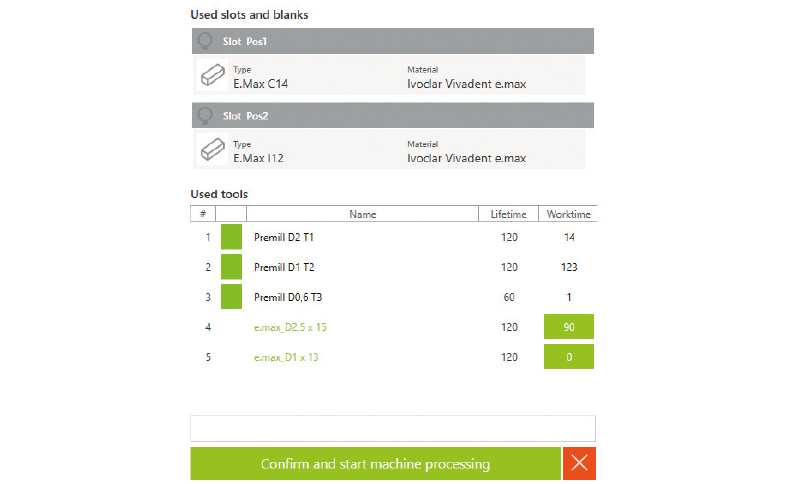 Customized milling data output and milling activation (MachineConnect)
The milling process can already be activated on the machine during the calculation of tool paths. A direct communication between hyperDENT® Machine-Connect and the machine checks the current status and actions are taken accordingly. The scope of possibilities is dependent on the machine.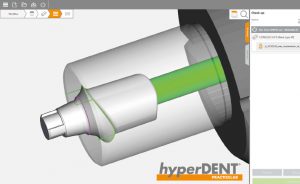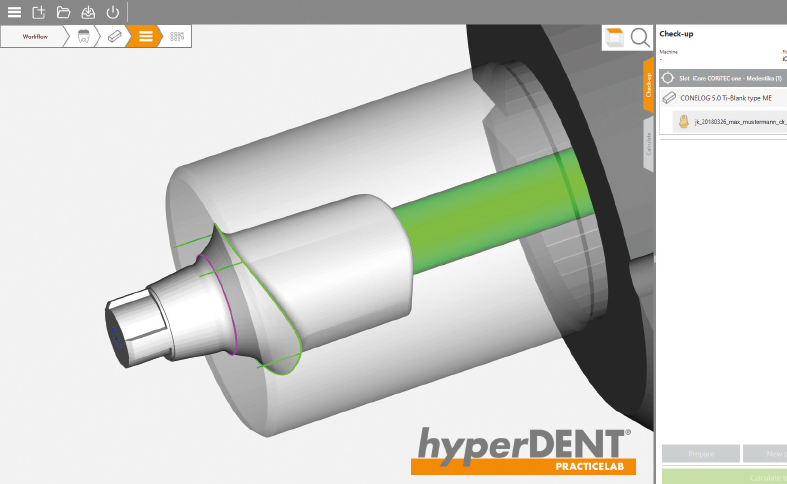 Prefab milling
It is also possible to mill prefab blanks without the hyperDENT® Implant Module (4 and 5-axis milling in a closed fixture or 5-axis simultaneous mill turning). By utilizing various milling strategies in different areas, an optimum surface quality is guaranteed. The required blank is automatically selected through the configuration of the database, which saves time and prevents errors.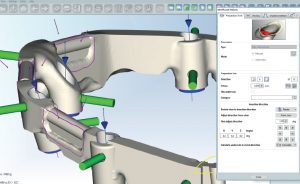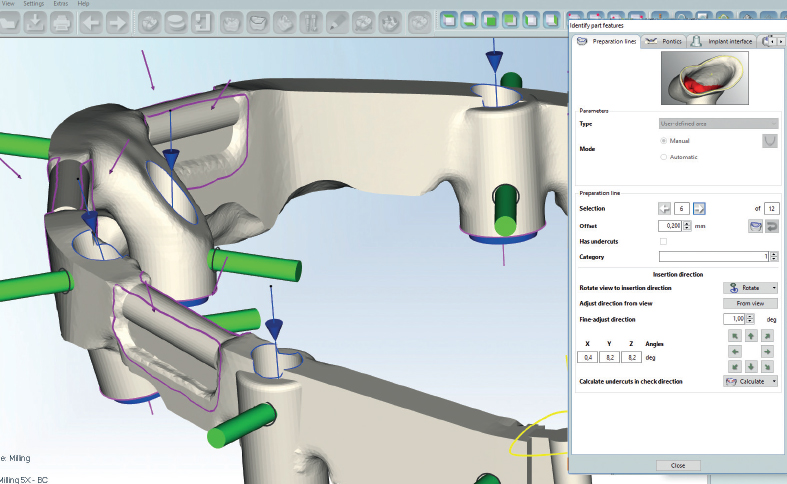 User defined areas
By establishing user defined areas, a high degree of flexibility can be achieved using specific strategies and tools. The categorization of user defined areas enables many application possibilities (i.e. attachment, customized milling of residual material), even using the same milling part (available in hyperDENT® Classic).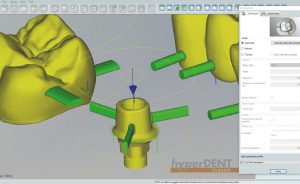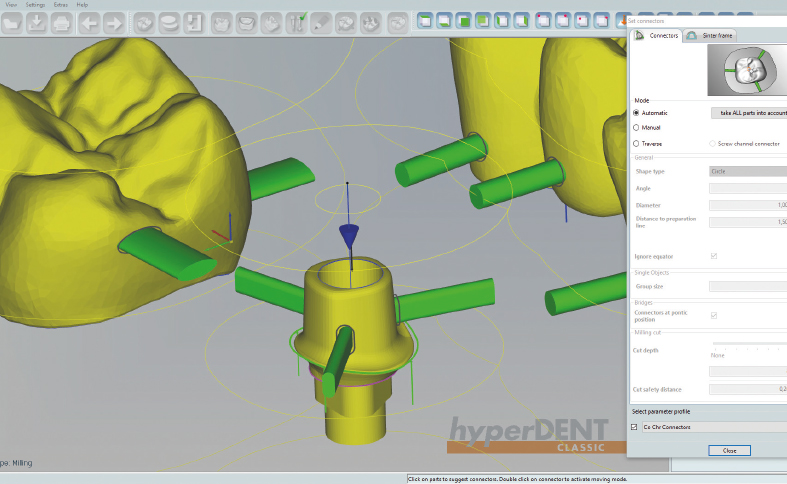 Connector profile and sintering frame
Using the connector and sintering frame profile, which can be set specifically for part types, special requirements can be managed for each indication. Form and position can be edited individually. The algorithm for optimized nesting of the connector position guarantees a quick and easy workflow for the tool path calculation, even for overlapping milling areas.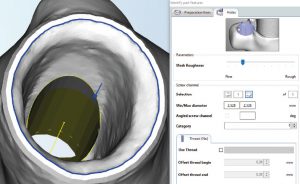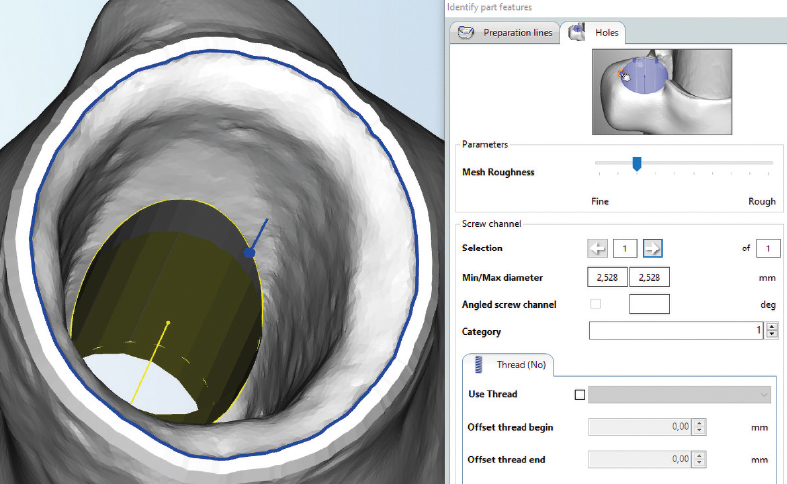 Cavity milling
The milling of cavities/holes is required repeatedly and hyperDENT® is capable of milling these milling these with all part types. Through categorization, different requirements can be managed easily, even for the same part.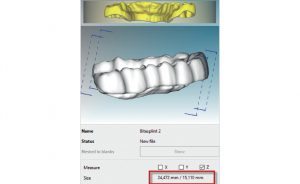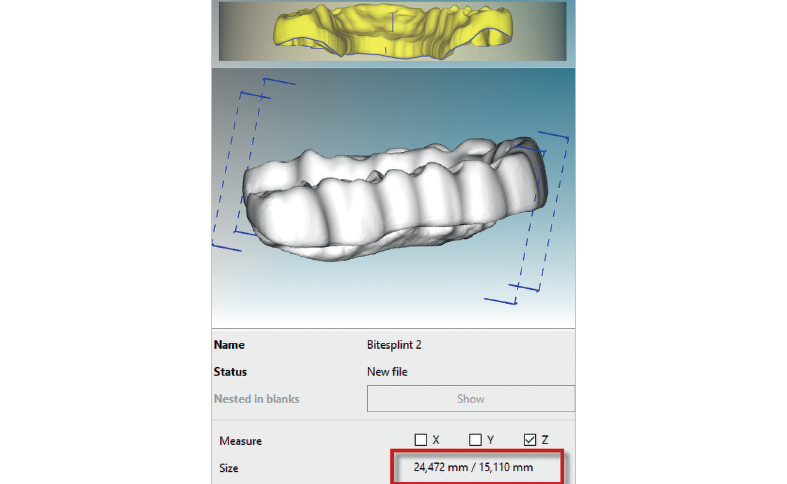 Environment filter
Using automatic recognition of the blank required for milling, all known parameters (i.e. material, machine, part measurements) are considered for the selection. Only blanks that fit will then be included in the dialog, which simplifies the blank selection enormously.
Automatic tilting and nesting
The part is loaded in the blank, tilted according to the settings and machine capabilities and then nested as per the selected strategy. This automation guarantees that machine limits are not exceeded.
CAD interfaces
hyperDENT® features interfaces to the CAD systems from 3Shape, DentalWings and Exocad. With the utilization of CAD metadata in hyperDENT®, the entire workflow can be simplified and the cycle time can be reduced significantly. It is possible to start hyperDENT® directly from 3Shape.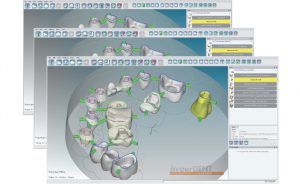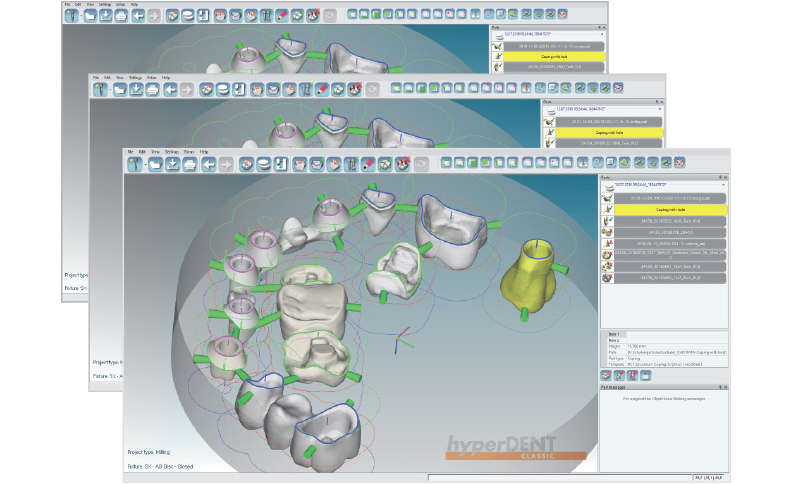 Multiple Instances
hyperDENT® Classic can be started multiple times in order to work on multiple projects simultaneously. While one or multiple projects are calculating, additional projects can be prepared. This results in high CAM workstation utilization.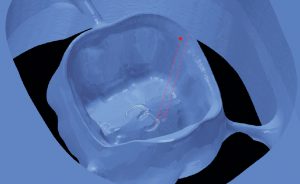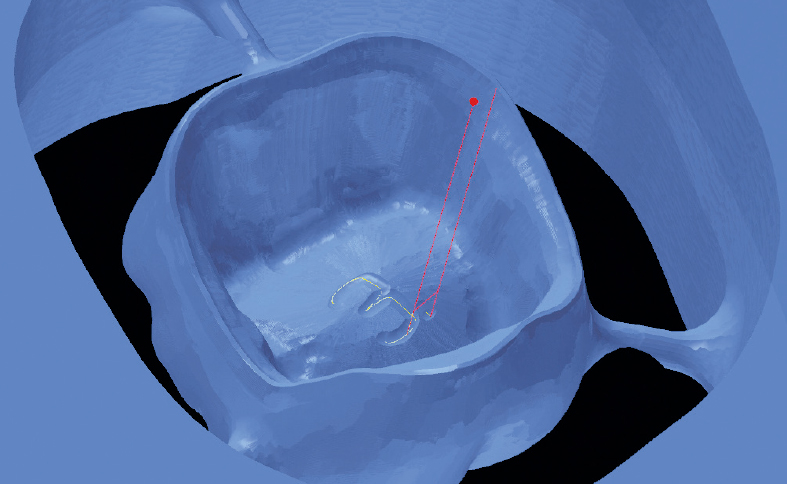 Engraving
Engraving objects after production simplifies the subsequent identification and allocation of parts. The engraving can be placed individually for parts using the symbol in the workflow bar or placed automatically using parameters. Material-dependent profiles can also be created.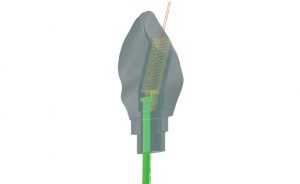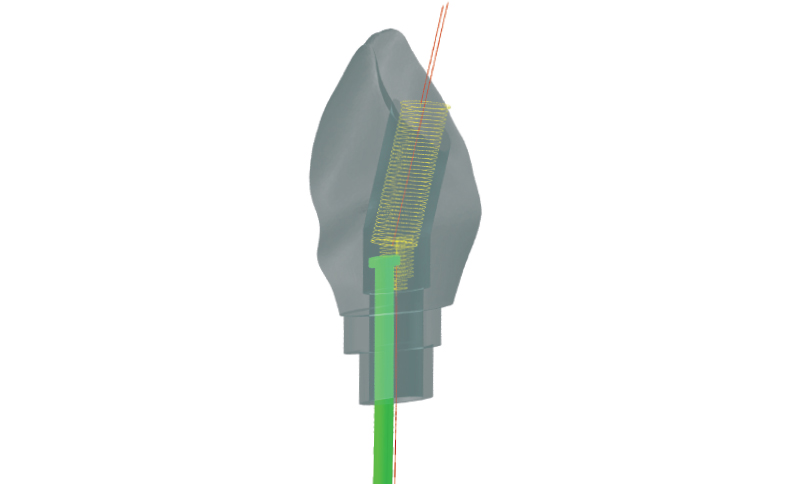 Angled screw channels
With hyperDENT®, milling angled screw channels is not a problem. In fact, it is just as easy as milling normal screw channels due to the manual or automatic recognition. Optimized milling jobs using slot milling cutters ensure an easy milling process.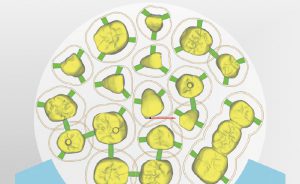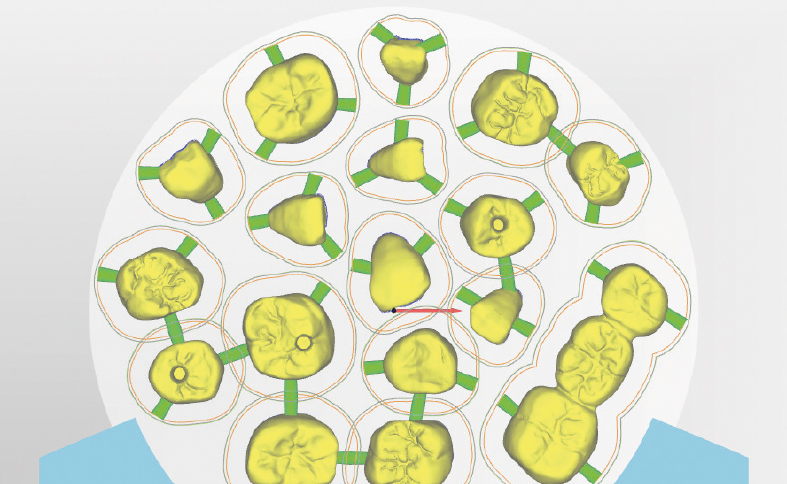 Autonesting
During loading, hyperDENT® automatically places parts optimally in the blank. An additional local nesting assists during manual nesting to find the ideal position within the radius.
Project document
With the output of project documents, individually determined specifics, such as estimated processing times, blank and tool information, are documented for each project. A PDF as well as a screenshot are generated to improve the allocation of the project.